After the publication of my firt Android app that help us to count everything (Times & events), I took out Jedicut project to work on few corrections and to work on ideas you sent me. Jedicut 2.3.3 (Download page) contains some of this ideas.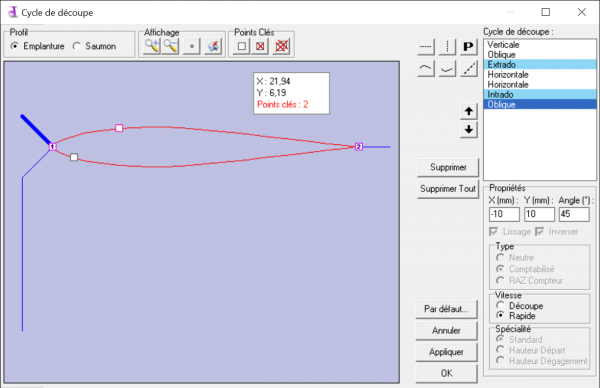 Here are new features that should help do foam cutting and help us to use Jedicut :
Cycle of cutting : A new kind of movement for your cycle of cutting called "oblique",
Cycle of cutting : Jedicut show how many key points you added in your profile,
Cycle of cutting : New button added to delete all key points with just 1 click,
Cycle of cutting : Zoom in doing a selection in the drawing with mouse, and zoom out doing right click,
Cycle of cutting : Blue lines represent fast movement, and red lines represents slow movemet (cut speed),
Jedicut ask you if you want to save your last unsaved modification before closing the file or closing Jedicut,
You can exit all windows using escape key.
There are also many corrections and improvements like these :
Error when Jedicut start if it doesn't find translation files,
Open/Save a cutting even if no profile is added,
Open/Save a profile even if there is no point in it,
Error when opening a corrupted cutting file,
UI problem in Cycle of cutting window with few screen resolutions,
Some errors when exit Jedicut options window,
Improved translation management.
That's all for this new Jedicut release. I hope it will be easier to do foam cutting with Jedicut software. I'm working on some news improvements, stay tuned 😉
If you want to follow new features, you can subscribe to the Facebook fan page of Aeropassion, or to Jedicut Twitter page.
If you have other ideas, you can also leave a message on the forum of Jedicut.com.
See you soon !